Dr. Jay Erickson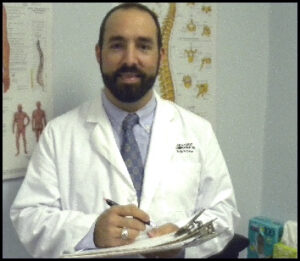 Dr. Jay Erickson was born and raised in Athens, Georgia, so when it came time for Jay and Brandi to decide where to start a Chiropractic Office; the Athens Community was first on their list.  The creation of Erickson Chiropractic & Wellness has been a "dream come true" for both Jay and Brandi Erickson.  Moving back to Jay's hometown, where he and Brandi met, is the icing on the cake.  Chiropractic continues to bless them in so many ways.
While growing up in Athens, Jay experienced the benefits of Chiropractic at an early age.  After suffering a soccer injury, Jay began seeing a local Chiropractor.  He loved the fact that he actually felt better after leaving his office.  In 1996, he was involved in a motor cycle accident on Baxter Street.  Dr. Jerry Chastain put him back together and got him walking again.  This experience set his path for a Chiropractic career of his own.
After graduating from the University of Georgia, Dr. Erickson and his new wife moved to Spartanburg South Carolina to attend Sherman College of Chiropractic.  While in school, Jay became passionate about the importance of nutrition along with proper alignment of the spine.  Along with his Chiropractic studies he began taking Continued Education for nutrition and supplementation under Dr. Theodore Barody, a well respected Chiropractor and Nutritionist.  In 2003, he earned his license in Holographic Health.  After graduating Chiropractic College in 2004, he became an Associate Chiropractor at one of the busiest Chiropractic offices in Spartanburg.  While working at Wise Chiropractic, he learned from two of the most respected Doctors in the business.
During this period, the Ericksons received a call from Dr. Jerry Chastain with the news that he would be retiring and wanted them to take over his practice. With their first child TJ on the way they knew it was time to move back close to family and friends, and begin digging roots for their family to grow.
Now with three children, TJ, Sam and Luke.  Doctor Erickson is proud to be serving the Athens community and watching his boys thrive in Bulldog country
Erickson Chiropractic offers more than just pain relief, as Dr. Erickson constantly strives to educate patients about the importance of wellness and maintenance in overall health.  Dr. Erickson and his staff focus on patients individually and always treat them with care.  The goal of Erickson Chiropractic is to create an environment that will promote health and healing for the whole family.
If you, or someone you love, would like to know more about Chiropractic and Nutrition, please visit us and become part of our extended family.
Dr. Brandi Erickson
Dr. Brandi Erickson is now back in practice full time after taking time off  tending to their three boys. Dr. Brandi graduated from UGA in 2000 and  graduated from Sherman Chiropractic College in 2005. She is board  certified by the NBCE for Chiropractic and Physiotherapy modalities.  She has a passion for bringing Chiropractic to all ages and especially  expecting mothers, infants, and children.